82 Church Ave
Brooklyn,
NY
11218-5152
United States
About STD Testing Facilities in Brooklyn NY
Maximum Convenience for STD Testing in Brooklyn
Sexually transmitted infections (STIs)—or sexually transmitted diseases (STDs)—are no joke. However, STD testing and treatment doesn't have to be complicated. We want to make the process of finding clinics that have the STD tests you need as convenient for you as possible. Information like contact numbers, business hours, and more is available for many local facilities. The power to choose an STD clinic that's right for you has never been easier!
HIV Quick Facts About Brooklyn, New York
As of 2015, the CDC estimates that 1.1 million people have HIV in the United States.[1] The CDC also reports that 16% of new HIV diagnoses occurred in the Northeast in 2017.[2] By the end of 2016, health officials estimated that 123,887 people were living with HIV/AIDS (PLWHA) in NYC.[3] According to NYC health officials, there were 29,579 PLWHA in Brooklyn that same year.[4]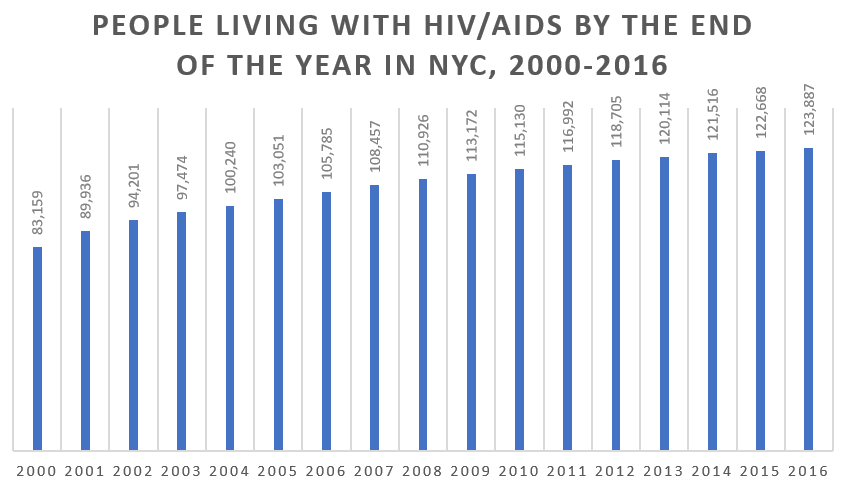 STD Quick Facts About New York State
Chlamydia and gonorrhea were two of the most common sexually transmitted diseases (STDs) in the United States of America in 2017. Did you know that the CDC reported 116,814 cases of chlamydia and 34,099 cases of gonorrhea in New York during that year? This means that New York ranked #9 for chlamydia and #21 for gonorrhea out of all 50 states based on the 2017 STD Surveillance Report's ranking methodology.[5]
Unfortunately, many people don't notice symptoms of these two incredibly common infections. An STD test is the only way to know for sure know the true state of your sexual health.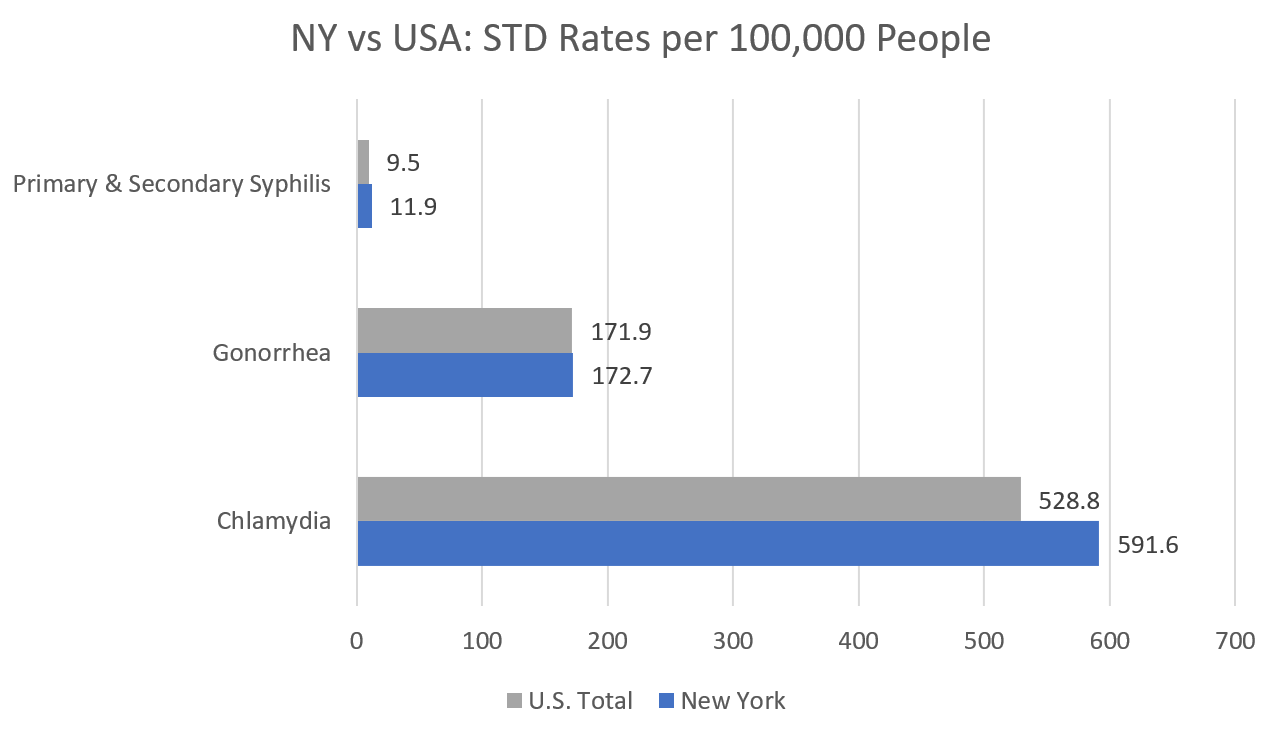 STD Testing NYC
Not sure where to go to get tested in New York City, New York? Check out our pages for some of NYC's other boroughs:
Frequently Asked Questions about STD Testing (FAQ)
What Is the Difference Between an STI and STD?
STI means sexually transmitted infection. STD means sexually transmitted disease. They both refer to infections that you can contract from sexual activities.
Who Is at Risk?
Certain demographics are considered to be at higher risk of contracting some infections. That being said, ANYONE who engages in vaginal, anal, and/or oral sex—especially if unprotected—can contract an STD, regardless of sexual orientation, gender, or race.
What Are Common STD Symptoms?
Signs of an infection will vary by individual as well as by the specific STD(s) the person has. However, it is incredibly common for people to notice no symptoms at all. This is why checking for symptoms alone is not an accurate indicator of health.
Tests & Pricing: How Much Does STD Testing Cost?
It depends on the tests you take and whether you decide to bundle them. Some tests will be cheaper than others. For example, a hepatitis A test, hepatitis B test, and hepatitis C test here will each only cost you less than $25. Specialized tests will usually cost more than standard options. For instance, an HIV early detection test will usually cost more than a regular HIV test, but can give you accurate results about your HIV status far sooner than a standard testing method.
Bundling is a great idea not only to save money, but also to give you peace of mind. If you're already getting tested for one infection, getting tested for other common STDs can help give you a more comprehensive view of your sexual health. Bundling a chlamydia test with a gonorrhea test is common and often results in serious savings. Even more options are available, though. Here you can get HIV type 1, HIV type 2, herpes 1, herpes 2, chlamydia, gonorrhea, syphilis, hepatitis A, hepatitis B, and hepatitis C testing all for a great price.
Of course, if you visit a clinic and receive other services, your bills might be higher. Whether or not your health insurance covers certain tests, services, and/or doctor visits can also impact how much you will pay out of pocket for testing.
Because prices can vary wildly, you can contact the place you plan to test at ahead of time to get an estimate for your costs as well as available payment options.
How Long Does STD Testing Take?
The actual process for getting tested can be simple and quick. It all depends on the test (or tests) you take. For example, you can provide a urine sample for an STD test in minutes. You might even be able to complete other screenings and get results right there in the health center office. Rapid HIV testing, for instance, can take less than 20 minutes!
Providing samples for other types of tests might take slightly longer. A syphilis test, for example, most commonly involves drawing blood at a health center. Ultimately, how long this process takes depends on the infections you test for and the testing methods you use.
How Long Will my STD Test Results Take?
You can get fast results as quickly as in 1-2 days. Just know that testing right before a weekend or holiday can make the wait longer.
What Happens If I Test Positive?
If you test positively for a sexually transmitted disease, you should receive further instructions on what to do next when you receive your diagnosis. This will involve speaking to a licensed medical professional about treatment and also reaching out to sexual partners you may have exposed as well.
I Want Lots of Medical Information. Where Can I Get It?
Brooklyn residents can get information on STDs, care, treatment, counseling, and more from their doctor, local and state public health departments, or the CDC, among other places.
References
Disclaimers
This site is not to act as professional medical advice or diagnose any condition. Specific comments, questions, or concerns should be directed toward a licensed health-care professional.
---