Find a Clinic That's Right for You
Find the STD testing facilities near you, so you can get peace of mind right away. Search through thousands of STD testing clinics using our FREE STD testing center locator. Simply click on your state, find your city or territory, and pick a location that works best for you. Can't find your city? We suggest you find one from the list that's closest to you.
We want to make this as convenient for you as possible: exact distance from your location, services provided, phone numbers, hours, and nearby landmarks are included for many of these facilities. The power to choose a clinic that's right for you has never been easier!
Order an STD Test
You can buy an STD test
here
. Select the infections you wish to test for and follow the check-out instructions. Be sure to bring proof of your purchase (the Lab Requisition Form or code) with you to your chosen clinic.
---
STD Quick Facts: Did You Know?
Chlamydia and gonorrhea were two of the most common sexually transmitted diseases (STDs) in the United States of America in 2017. Did you know that the CDC reported 1.7 million cases of chlamydia in the U.S. during that year? That was a 22% increase since 2013. Gonorrhea is on the rise, too; 555,608 cases were reported to the CDC in 2017 as well. That's a 67% increase since 2013. Many people don't notice symptoms of these two incredibly common infections. Do the responsible thing and get tested, so you know with 100% certainty the true state of your sexual health.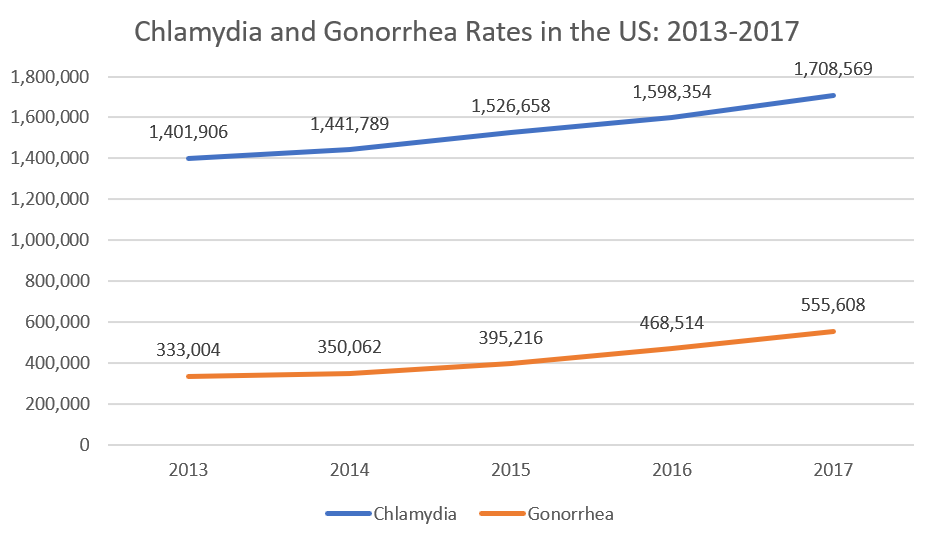 ---
Look for Testing Locations by State
You can also search for testing locations near you by state. Select the state you're in, find your city (or a city near you), and then select the health center that best suits your needs.
---
Further Information About STDs
What's the Difference Between STD and STI?
Sexually transmitted infections (STIs) and sexually transmitted diseases (STDs) both refer to infections that you can catch from activities like sex.
What Do I Need to Know About Getting Tested?
You can check out our pages on the following infections:
You can also visit the CDC or talk to your doctor for information.
Am I at Risk for an STD?
You can check out our FREE STD risk calculator here.
Disclaimers
STD Testing Facilities is not designed to replace professional medical information and advice and is not intended to diagnose any disease or condition.