Testing For Chlamydia? This Is The Only Method Doctor's Trust
STDs are a scary thing, and testing to see if you have chlamydia can feel embarrassing. It happens to the best of us. The infection could have happened while you were out partying, having a few drinks, and had a fun night out. Afterwards… the worry sets in and can feel overwhelming.
We all want to have fun and still view ourselves as healthy and "alright", but you will never know unless you get properly tested. Luckily, chlamydia can be easily beat once it is identified through proper screening – IF you know you have it.
If you have any worry that you might have this STD, then it is your responsibility to find out if you do. The hard part with this common infection is that it is often difficult to tell you have it since there are not a lot of symptoms.
About 50% of women and 75% of men infected never see any symptoms whatsoever.
For men, if you see a clear or cloudy discharge from the tip of the penis, if the penis feels painful around its opening or it hurts to pee, then it is likely you have chlamydia. For women, it can be very difficult to tell without a medical test.
If left untreated, you are looking at an infection of your urethra, epididymis, and possibly proctitis with your rectum.
Without treatment, these problems can get even worse, but you CAN treat them. First you need to get screened – with the right test so you can be 100% sure of the results.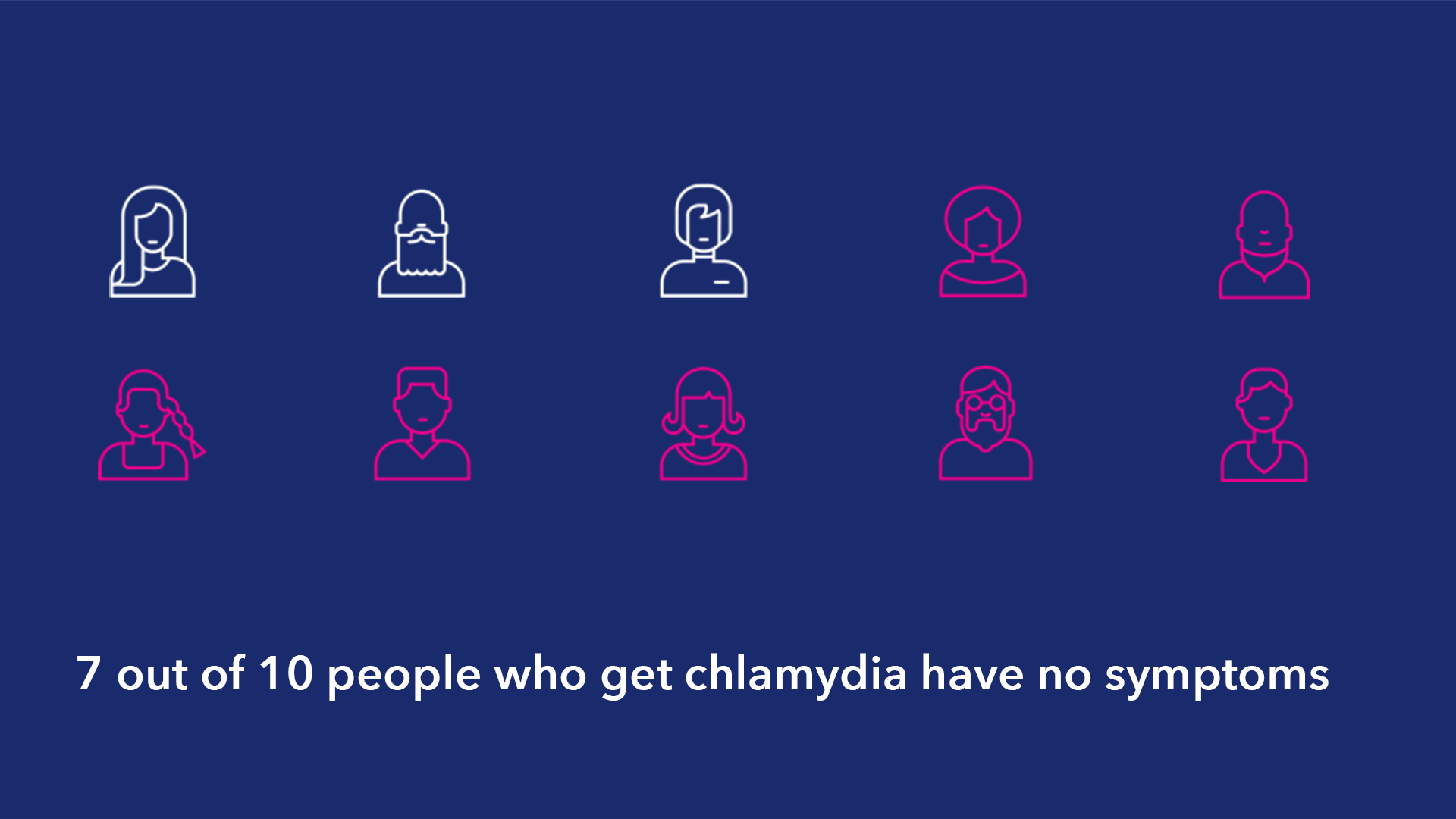 The Process Of Getting Tested For Chlamydia – Here's What You Need To Know
Keeping yourself healthy and preventing the spread of diseases to your other partners is very important. Unfortunately, there is a lot of misinformation about effective testing methods.
We asked one of our readers to go through the entire STD screening process with the only testing method approved by clinicians. Let's call this reader "Billy".
Billy had multiple sexual partners over the course of the past year. He experienced some pain while urinating and needed to find out if he had contracted an infection. He signed up for chlamydia testing through a medical facility, then followed the process, which is very simple.
Here's the process Billy used:
Billy used the list of pre-checked testing facilities below to choose the one that was the best fit for him. Then when he went to his appointment – He had to make sure it had been an hour since his last urination.
Then Billy went to a recommended screening facility and urinated into a cup. The cup was handed over to a professional clinician and Billy received his results back in 1 day. Luckily for Billy, he was all clear, which relieved him of heavy anxiety and the intense pressure he felt.
This might be something you are experiencing right now.
Getting tested through a medical facility is a huge value to you because it will GET RID of your anxiety. Whether you test negative or positive, there will be zero doubt with what is going on. Once you know, you can continue living your life because it is nothing or get treated for it.
If you are worried that others will find out you are getting STD testing… don't. These are completely confidential and private matters. Professional clinicians will keep each case private and no one will find out unless you tell other people yourself, and getting screened does not take much time and you will have fast results.
You can find a list of recommended testing clinics near you below, but first let's examine how this lab screening works so you know exactly what to do when you get there.
When and How To Test So You Get Accurate Results You Can Count On
The main results of lab testing for STDs come from your urine. If you have chlamydia, your urine will contain traces of it that will show up when the clinicians are looking at your urine sample. The test itself is extremely easy, and you can be in and out in 30 minutes to an hour.
That is not a whole lot of time to invest in making sure your body is healthy, right?
The most ideal time for you to get tested is 1 to 5 days after the possible exposure has happened. Getting tested within 24 hours is a bit too quick, as the infection needs time to grow and become detectable. After you have waited, take a test and rest easy knowing you will get the results in 1 to 2 days once your sample has been taken.
The entire process can take about a week, from time of infection to getting results back. You will be sent the results to your email as soon as they are ran through the lab process, whether positive or negative.
While getting screened for infections is no fun, the testing process is painless and very convenient. The quality of your results depends on the quality of the testing facility
Not sure where to find a legitimate testing facility?
Here's where you can sign up with clinicians that will give you results you can count on.
Think You Might Have Chlamydia or Gonorrhea? Here's The Best Way To Get Tested For The Most Common STD's Quickly and Easily From A Clinic You Can Trust
Chlamydia, and the other similar STD Gonorrhea, are the most common STDs around. They infect a large portion of the United States and are easy to pass on to unsuspecting partners, which is probably how you got it in the first place.
Since a lot of symptoms are undetected, or in the case of chlamydia the symptoms often don't exist, it can be very difficult to take care of yourself.
That is why it is a good idea, especially if you have had multiple sexual partners, to periodically get screened to make sure your body is healthy and you haven't picked up one of the common STDs.
Getting a periodic test is cheap at just $89 dollars, or $129 to get tested for both chlamydia and gonorrhea. If you are already getting screened, you might as well get assessed for both at one time.
At this point, you have three choices you can make:
Skip STD screening, leave it to chance and hope everything is fine.
Try to find some "DIY" test that might not work and will likely mislead you.
Get professionally tested, and get rid of your anxiety once and for all.
Click here to get the only clinically approved STD testing for chlamydia and gonorrhea right now.
Here's Everything You Need To Know About Testing For Chlamydia BEFORE You Go
The process is fast, simple and clinically approved. Not only that, but it is a cheap price to pay for peace of mind. Walking around for weeks with the anxiety of what might be happening to your body is no way to live.
Nowadays, common STDs are treatable just by using some antibiotics. there is no need for shame to keep you infected, especially when these diseases are so common already.
The process only requires a urine sample (not a blood sample as some people think), which is sent into professional testing facilities to see if there is an infection or not. When the results are gathered in 1 to 2 days, they are emailed to you quickly with negative or positive results and a guide of what to do next.
If you receive negative results clearing you of STDs, it is still important to get checked again every few months if you are sexually active with multiple partners.
If you are still unsure, get another test twenty to twenty five days after the initial results just to be clear that everything is fine.
Here is what you can do now to get rid of your anxiety:
Click here, follow the checkout guidelines, select the Chlamydia and Gonorrhea tests, and find a clinic near you today that can help you solve these problems, anxieties and worries that you are having right now!